FOSTER CAMPBELL
Louisiana Public Service Commissioner
District 5 (North Louisiana)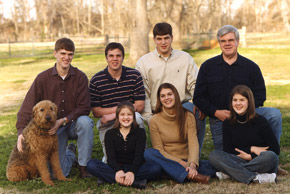 Foster Campbell is an elected official, businessman and farmer from Bossier Parish.  He was elected to the North Louisiana seat on the Public Service Commission in November 2002, representing 24 parishes and nearly one million people.  He was re-elected in October 2008 with 78 percent of the vote.  Previously he served in the Louisiana Senate representing District 36 in Northwest Louisiana.
Campbell holds a degree in business and economics from Northwestern State University at Natchitoches.  He owns and operates two insurance agencies in Bossier City.  He lives and raises cattle at Elm Grove in south Bossier Parish.  He has six children.
As a state senator Campbell led a three-year campaign to regulate the rates charged by rural electric cooperatives, lowering electric bills for a million state residents.  He created the $1-billion Educational Excellence Fund for local schools from Louisiana's Tobacco Settlement.  In 2001 he coauthored "Do Not Call" legislation protecting consumers from sales calls at home.
At the PSC Campbell has pushed to make utility companies and the commission more responsive to the people.  He led efforts to prohibit wining and dining of commissioners and staff by utilities.  He hosts public and Commission meetings in his district each year.  He has championed lower rates and the use of renewable energy.  He passed measures to help victims of family violence by waiving their utility deposits and stopped disconnection of utilities during extreme weather.
In 2004 Campbell made national and international news by persuading the PSC to provide telephone service to the Mink community in Natchitoches Parish.  Before he got involved, residents of this tiny community in Kisatchie National Forest had lobbied elected officials and telephone companies for 40 years to get phone service.  In 2005 he obtained $39 million from the federal government to provide free cell phones and service to Hurricane Katrina evacuees.
For more information call 800 256 2412 or Contact Foster.